Home » SPORT PRODUCTS » >Multisport Scoreboards » Accessories for scoreboards
Accessories for scoreboards


Product details
€ 720.00 (art. 308-01) Size:

24.5x17x8.5

cm.
Control console for FC, FS, FW, FOS, TM series scoreboards.
7" color touchscreen display, for the easy management of many different sports.
Wireless or wired communication.
14-hour average life internal battery.
Sturdy, impact proof case.
---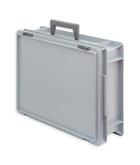 Product details
€ 66.00 (art. 308-10) Size:

40x30x13.5

cm.
Carrying Case for Console-700.
---


Product details
€ 64.00
(art. 232-03) Size: 12x8.2x2.5cm.
Additional console for managing the chronometer or the shot clock (24/14/30 seconds).
To be used together with Console-700 or Console-300.
SUGGESTED SPORTS
Basketball
Five-a-side, Futsal
Water polo
ect.
---